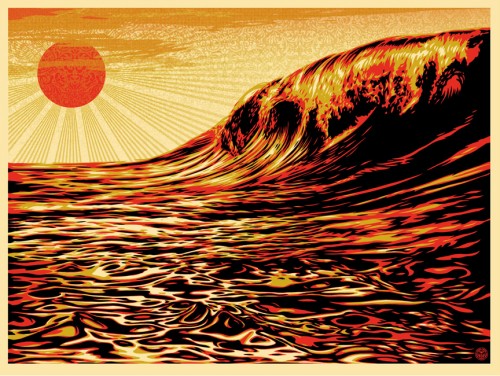 Shepard Fairey
, of
OBEY
fame, created this limited edition screen print with the proceeds going to relief aid for Japan. It's an edition of 700, signed and numbered, and it releases tomorrow (3/24/2011). $60 bucks well spent if you ask me. You get a great piece of art from one of graffiti's leading names and help those in need in the process.
Artist,
Slick
, is also putting out a limited edition print and t-shirt with the same design with proceeds going to help Japan. I gotta hand it to these boys. I think it's really great that artists of their reach are essentially donating their work, out of pocket, of which they make a very nice living off of, to help Japan in their time of need. $40 bucks for the print and $30 bucks for the shirt. Not bad, eh?
Here's the
link
to buy the Shepard Fairey print.
Here's the
link
to buy the Slick print.